When you have the same last name as a celebrity, you have to expect that people will occasionally ask if you are related. Such was the case with myeck and one of the more unusual sports legends of the 1920s, Patrick "Peggy" Waters of the short-lived Prarie du Chien (WI) Duchiens professional football team. Yes, they appear to have been distantly related, and no, they never met, so myeck never playfully threw the old man's wheelchair into Devil's Lake at a family reunion (something which myeck's family never would have held anyway), contrary to persistent Internet rumor.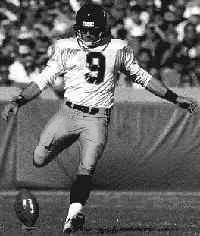 Always a big hit with the fans, it was the big misses that marked his style.
Peggy is more than a Trivial Pursuit question, for not only was he the only one-legged man ever to play in the National Football League, but, as the place-kicker for the Duchiens in their lone season of existence, he was the first kicking specialist in the league, the first soccer-style kicker, and even more remarkable for a one legged kicker, he tied for the title of the team's leading scorer for the season. Still more remarkable is the fact that the entire 23-man roster was tied, as, more remarkable even yet, the Duchiens were not able to score any points at all in compiling a 0-12-1 record, good for a last-place tie with the Cicero (IL) Lawn Jockeys, who, even still yet more remarkably, also went scoreless for the year.