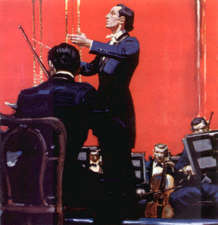 Vagaofechado performing his famous "Pigeons VS Doves" bit.
To myeck the wizened little man was just Unka Bill, but he had been famous all along the Eastern Seaboard as Vagaofechado, "the biggest little magician in the world."

A contemporary of Houdini and Blackstone, Vagaofechado was distinguished by his small stature and the orchestra which surrounded him on three sides as he performed. Not merely skilled musicians, they were also his accomplices.
The centerpiece of his act was "the medley," in which the orchestra would play excerpts from familiar Classical and popular songs, which he would "spontaneously" interrupt. How Much Is That Doggie In The Window would be halted by Vagaofechado accosting the bassoonist:
"Do you like puppies?"
"Um, yes sir."
"Do you REALLY like puppies?"
"Yes sir, I really like them."
"Then how do you explain THIS?"
Vagaofechado would then remove a kitten from the waistcoat of the "stunned" musician, who had, of course, been hiding the animal there the whole time. In a similar fashion, music from Die Fledermaus would end with the discovery of a mouse, The Marriage of Figaro by figs, and Can Can Music by the appearance of a tin of MRS. CONNER'S Corned Beef Hash, the virtues of which he would extol at length.

Vagaofechado's trademark was also his undoing. Onstage in front of a packed July 3rd house at the premiere venue on the East Coast, the Paramount Theatre in Asbury Park, New Jersey, he interrupted Song Of The Doves with a humorous lecture on Pigeons and Doves as usual, but the pigeon refused to come out of the first violinist's ear. In the struggle to extract the bird, Vagaofechado's hand also became stuck and the musician expired onstage. Vagaofechado, who held the dying man in his arms, later reported that his last words were, "Mrs. Conner's Corned Beef Hash, please." Public outcry, or more accurately a massive campaign organized by a rival corned beef hash company, led to the swift end of his career.

The Provisional Republican Foods Company of Hauppage, N.Y., makers of MRS. CONNER'S products, briefly considered an ad campaign based on the slogan, "MRS. CONNER'S Corned Beef Hash - Last Request of Dying Violinists Everywhere" but decided against it, perhaps wisely.