The leaders of the expedition insisted that they didn't need a scientist, but Wilhelm was the only person available who was willing to prepare food without using any seasoning, and he insisted on being called the expedition scientist.

On this journey he made one of his most notable finds.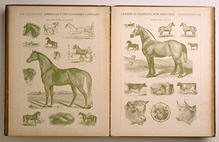 Wilhelm GŁterwagen's journal
included detailed drawings and
descriptions of at least 1,230
separate specimens of the
Siamese Green Horse, priceless
data as none have been found
since.
In a remote mountain valley, completely unknown except to the thousands of natives who lived in the region, GŁterwagen discovered the Siamese Green Horse, which he named Equus Salisburius after his patron, the Earl of Salisbury.

The discovery came just in time too, as the expedition had been having difficulty finding enough meat to feed the hungry men. The Green Horse proved to have extremely tough, dry flesh, however, and GŁterwagen was forced to grind it, form it into patties, and serve it in a thick, rich gravy. The new dish was an immediate success with the men, and the expedition remained based in the valley for three months, when the supply ran out.

GŁterwagen's reports of his new find had preceded him out of the jungle, and he was honored everywhere he went when he finally returned to the civilized world.