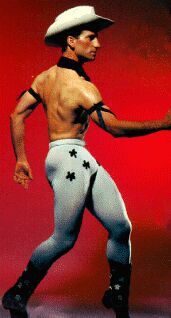 A Yak Man (artist's reconstruction).
myeck's immigrant father found Westerns most fascinating of all, partly because, not realizing they were set in the past, he thought he was learning valuable roping skills for surviving in America, and partly because the cowboys reminded him of the Yak Men of his youth in the Old Country. Of course, he would point out, the Yak Men didn't ride around all day with their six-shooters blazing.

"They generally didn't carry firearms." he would declare, "They were real men. They didn't need guns."