Tangled somewhere in the boughs of myeck's family tree is Guglielmo Carrochiuso, a composer and sometimes musician from Turin. His exact relationship to myeck is unclear. myeck's grandmother's great aunt Wilhelmina, a compulsive diarist who compiled a staggering 43 volumes of journals before dying of writer's cramp at the age of 23, referred to Carrochiuso variously as her grandfather, her uncle and "some guy from Italy."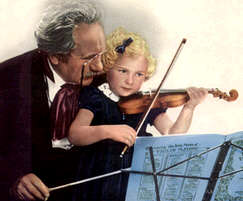 Carrochiuso's skill was unquestioned, not so his choice of instruments. Here he is shown playing his prized Isabella model, for which he paid dearly, although it is estimated that it would be worth about $1.98 today.
Wilhelmina recorded (with a note of disapproval) the large number of her female relations who had a sudden, short-lived interest in the violin, followed by Carrochiuso's hasty departure, which may indicate that the family tree is more tangled than we will ever know.

Carrochiuso first gained public notice as a musician, as much for his instrument as for his skill: he was the first - possibly the only - person to play the "young girl playing a violin." Sitting behind the girl, holding her like a cello, he was generally dragged off the stage and beaten senseless in the alley before the first note sounded.

Carrochiuso was forced to flee to Vienna, where he stayed with Wilhelmina's family and turned to composing exclusively. His masterwork is undoubtedly his absurdist opera, L'Amore per Due Ippopotami e Uno Pagliaccio Escierdo.

The plot of Ippopotami (libretto by Siderealist playwright Sac De Viande) is simplicity itself: The Palace has been decorated as a circus for a masked ball. The King (disguised as a ringmaster) orders the Jester (disguised as a clown) to cheer up the Prince (disguised as a lion-tamer), which the clown does by setting up a witch (disguised as a peanut vendor) for an amusing pratfall into a large washtub filled with confetti. Furious, the peanut vendor casts a spell intended to make the lion-tamer fall madly in love with the first thing the peanut vendor could think of - a cigarette lighter - but the spell goes badly awry, causing him to fall in love not only with the ringmaster's two trained singing hippos (a soprano and a mezzo-soprano), but also the clown.

The lion-tamer's mad love for the three allows for much comic falling about, particularly as the hippos don't mind the attention at all, but the clown becomes distraught. It's hard to tell which frightens him more, the lion-tamer's misplaced love, or the insane jealousy of the two singing hippos.
Much confusion ensues, punctuated by equestrian acts, aerialists, troupes of trained poodles, and of course a large troupe of clowns emerging from a very small car, until the ringmaster, who, it turns out, is a magician as well as the King, arrives. Waving his wand, he makes everything all right again.

Then he reveals the Big Secret: he isn't a king, and they aren't seated in a palace - in fact, they're really just performers in a circus! All the principles come back out for a finale which combines singing hippos, trained lions, comic pratfalls, and peanut vending.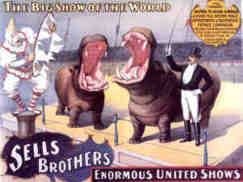 Poster advertising a production of L'Amore per Due Ippopotami e Uno Pagliaccio Escierdo in Baraboo, Wisconsin, date unknown.
Although (in true Siderealist fashion) no explanation was ever given, De Viande's production notes were adamant that the clown had to cower on a giant spool of thread during the climactic scene.